Joshua Tree Studio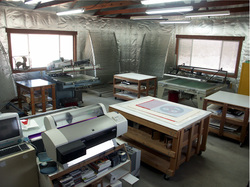 Our studio has many tables, all on wheels to accommodate the workflow of the project at hand. The Epson 7000 in the foreground is part of our pre-press for screen print positives. We print with solvent based poster ink and rarely larger than editions of two to three hundred in number. We also have thermal lamination with 27 " wide capabilities for the high end durable posters. Our studio has always had "daylight" balanced lighting and being in the Mojave Desert, it has evaporative cooling since1995 and is humidity controlled for accurate registration of paper substrates.

---
Semi-Automatic Press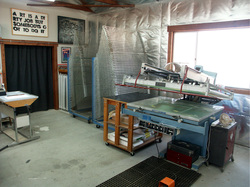 Our semi-automatic Advance Cameo is our main workhorse press. It is well loved and well maintained and provides us simple service on complex projects. You'll notice that in over thirty years of service it isn't covered in ink like many of those other screen presses you see elsewhere. We take care. We've had Newman roller frames as long as we've had this press. Through the decades, the system has been refined with dual durometer squeegees, high tension / low elongation fabric and stainless steel winged floodbars. It prints a maximum size image area of 24" x 36" and has a very strong color blend capability with the winged floodbars. It has highly accurate registration with a micro-adjustable floating vacuum bed.

---
Manual One-Man Press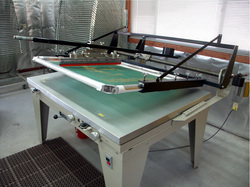 Our master-framed manual press is a rare Advance one-man press with the screen frame and squeegee on the same pivot point (very rare for a one-man press). It's a refinement of the conventional and versatile one-arm press design of many decades and makes. It also has a micro-registration floating vacuum bed and maximum image print size is 30" x 40". The supporting screen chases are also roller frame design and tightly stretched (15-20 Newtons of stretch test) for registration accuracy, sharp image release and smooth ink deposit. There are two drying racks, 40" x 52" tray size serving this press and the semi-automatic press. The other two drying racks are 32" x 48" tray size that serve the semi-automatic press.

---
All Well and Good, but How Much Do You Cost to Do My Screen Printing project?

Well, that depends. We need to know the edition size (unit count)? We need to know the image size, paper size and what kind of paper ? We need to know ink coverage and complexity of image? We need to know about stencil art generation ( artist, us, digital pre-press, etc.) ? We would have to know how much proofing involved ( that also involves stencil inter-dependency)? We like to do editions of more than one hundred but less than two hundred in unit count. We like to do editions of more than five colors and less than twenty -five colors per unit.
Historically, we've charged as low as $.50 cents per color per unit to as high as $2.50 per color per unit (that one was terribly stencil inter-dependent with two full proofings before edition production). The average for fine art screen printing is about a dollar per color per unit. The Waterhead project was well less than $1.oo per color per unit in 1995 dollars. It all depends on the wants and demands of the publisher, the artist and the image. If it's a rock poster with a lot of cut and dry digital pre-press, our quick and dirty effort would be in the lower end of our cost charges (Please note: there are screen print shops that aspire to get to our "quick and dirty level"). So, the short answer is "It depends". Just send an inquire through our contact page with the known project specifications for starters. In the Fine Art Screen Printing world, we have always been a great value.